Seasonal Recipes For Spring
One of the best things about the weather (finally) warming up is the bounty of fresh produce that suddenly becomes available. As various fruits and vegetables come into season, it's a great time to start working some new foods into your repertoire of recipes.
Can't-Miss Spring Events in Lewiston, NY!
It may have taken a bit longer than preferred this year, but the weather is finally starting to warm up. Spring is a great time to be in Lewiston!
Anthony DiMino, CEO
"We will always make every effort to satisfy your needs and try to be as friendly and helpful as possible."
John DiMino, Assistant-Non Perishables Manager/Hop Shop Manager
"I am the third generation of my family's grocery store business and the most important lesson I've learned over the years is that our success is always derived from the customer. The customer is first and foremost the reason we are in business, and always my number one priority. The best part of my day is helping a customer in need, whether it's helping them finding an item, getting something off the top shelf or giving them a recipe idea, I love making them feel appreciated."
About Us
Your local grocery store.
DiMino's Lewiston Tops really starts with one man, our founder Alphonso DiMino. Using money from a GI Bill after serving in the Korean War, Alphonso opened his first grocery store on 19th Street in Niagara Falls. Alphonso's goal from day one was always to please the customer. If a customer asked for a particular item and he did not have it, he would tell them to wait while he looked in the back. Alphonso wasn't really looking in the back, he really was going to the big grocery store next door, buying their product, then reselling it to the customer. He never wanted to leave a customer disappointed, having to go elsewhere.
These values have carried over the generations into DiMino's Lewiston Tops today. Our priority is to always please the customer and never to leave them disappointed. If we don't have what you're looking for we will do our best to make sure you leave happy. Customer service really is the core of our business, because without our customers we cannot thrive. Over the years our customers have blessed our business and family, and one way we can thank them is to give them a grocery store they are proud to shop at.
Like any business, we are not perfect. We are always looking to improve and innovate to satisfy our customers. Whether it's new trends, like gluten-free products, or environmentally-friendly items, our store is ever evolving and updating to meet your needs.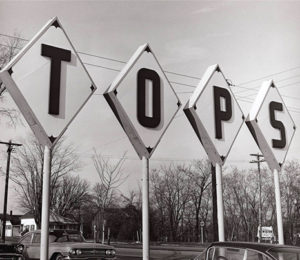 Over 50 years in the Lewiston community
The DiMino family has had a long history in the full-service supermarket business, beginning in 1947 when Alphonso DiMino invested in a small grocery store with his GI Bill money.
Our Guarantee
At DiMino's Lewiston Tops, our customers are our priority. We'll do whatever it takes to make sure you're satisfied when you leave our store. This means stocking our shelves with high-quality products, providing exceptional customer service, listening to what our customers want, and keeping our store clean.