Fresh Baked Goods
Get the taste of a family-owned bakery and the convenience of having it available in your local grocery store. We're extremely proud of our bakery at DiMino's Lewiston Tops. Our bakery features a large assortment of baked goods, made daily and from scratch. Pick up some fresh bread, pies, pastries or cakes for your home, event or office without lifting a finger.
Dedication to Quality
We pride ourselves on the quality of our baked goods, and our ability to satisfy every customer that comes in. If you're celebrating a birthday, anniversary or simply want to order a custom cake for any occasion, we'll be happy to make the perfect cake for your needs.
Our bakery offers something for every member of the family, including gluten-free baked goods.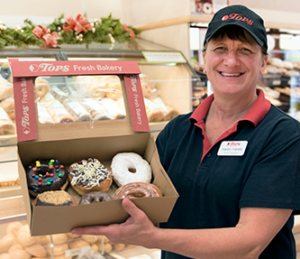 Karen L Hanes
Bakery Manager
"I like the challenge of making the bakery the best it can be."
Bread
Fresh bread and rolls are baked throughout the day.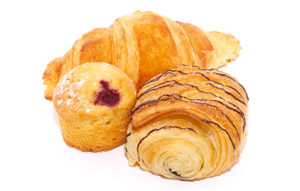 Muffins, Donuts, Pastries
Our donuts are made from scratch and fried fresh every morning.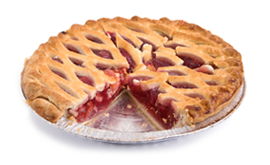 Pies
Delicious pies are made from scratch with seasonal fruit.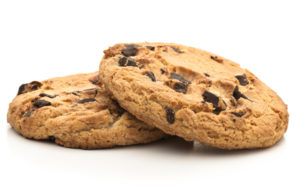 Cookies
Take home a variety of homemade cookies.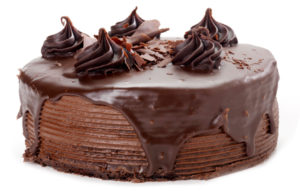 Cakes
Pre-made or custom cakes for any occasion.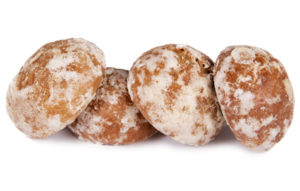 Gluten-Free Baked Goods
We carry an assortment of gluten-free baked goods from Vin Chet Bakery out of Buffalo, NY.
Our Guarantee
At DiMino's Lewiston Tops, our customers are our priority. We'll do whatever it takes to make sure you're satisfied when you leave our store. This means stocking our shelves with high-quality products, providing exceptional customer service, listening to what our customers want, and keeping our store clean.