From Start to Finish: A Holiday Menu from Dragonfly Jams & Jellies
Posted November 13th, 2016 in News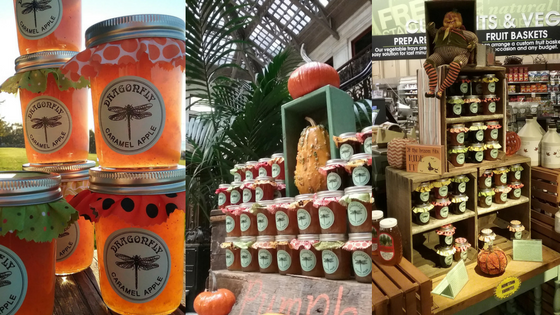 Whether you're hosting a holiday dinner for the first time or you're a veteran capable of holding down the fort, you still want to make this holiday season even better than the last. You want your guests to be delighted, and full to the brim with food. And admit it: you also want them to rave about what an incredible chef you've become. There's no better way to make that happen than to take them by surprise. Our suggestion: bring in the jam.
Jam's not just for toast anymore – used wisely, you can add it to all three courses to introduce new flavors while kicking your traditional dishes up a notch. We asked Damon Robertson, founder of Dragonfly Jams & Jellies, to share some of his favorite holiday recipes with us.
Damon Robertson of Dragonfly Jams & Jellies has been using his homemade, small-batch jam in his recipes for 21 years. Not only does he make each batch of 8-11 jars from scratch with whole fruit, fruit pectin, and lemon, he does everything by hand. From selecting the fruit from local growers (90% of his fruit comes from Niagara County) to picking each fruit at its peak ripeness, Damon is a one man show. Don't expect your run-of-the-mill flavors of jam, though. Dragonfly Jams & Jellies most popular flavors include Peppered Cranberry, Spicy Mango Tango, and Peach Cobbler.
"We like to refer to these as 'Grandma's Jams!'; real fruit, real sugar, real love in every bite!"
– Damon Robertson
Damon was kind enough to share some of his favorite holiday recipes to make your day deliciously perfect.
Appetizers
Caramel Apple Toasted Crackers
This is the perfect hors d'oeuvre to start your meal. Here's what you'll need:
1 box Triscuits
1 block extra-sharp cheddar cheese
Dragonfly Jams & Jellies Caramel Apple Jam
Simply place the Triscuits onto a cookie sheet, place slices of extra-sharp cheddar cheese onto each cracker and toast until the cheese starts to melt. After cooling down for a few minutes spread Caramel Apple Jam onto each cracker and serve immediately.
Salad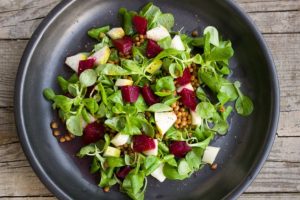 with Rustic Pear Jam Vinaigrette
You've probably never thought of making a salad dressing out of jam, but it's very easy to make and full of fresh flavor. Choose any flavor of jam and follow this simple formula:
1 part jam + 1 part apple cider vinegar + 2 parts olive oil
Whisk all ingredients together until smooth and pour over your salad of choice. Damon recommends the Rustic Pear Jam for your holiday meal.
Entree
Christmas Ham Glaze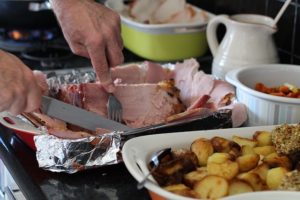 Christmas just wouldn't be the same without that glazed ham. If you want to add another level of flavor to your holiday ham, try glazing it with Caramel Apple or Holiday Plum jam. Simply take a generous amount of jam and warm it in a saucepan with a bit of water and your seasonings of choice. Damon recommends cloves & cinnamon or fresh orange zest, especially for the plum jam. Spoon over the ham & bake.
Dessert
Quick & Easy Shortcakes
" My family loved these easy shortcakes at our reunion down South this year! So simple & SO GOOD!"
These shortcakes are sure to be a family-favorite, and they are super quick and easy!
You'll need:
Pound cake (no need to bake it, from the store is fine)
Butter
Peach Cobbler Jam
Ice Cream
Whipped Cream
First, slice the pound cake into 1-inch slices and spread a generous amount of butter onto each slice. Toast the cake in the oven, and then turn on the broiler to brown the tops. Once browned, remove the pound cake from the oven and spread jam on each slice. Top with ice cream, whipped cream or anything else that sounds delicious.
Cocktail
Sugar Plum Fairy Martini
It's not the holiday season without a delicious martini.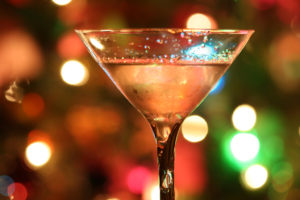 To make this martini you'll need:
1 tsp of plum jam
1 shot of vodka
a pinch of triple sec
a squeeze of lime
Shake all of the ingredients in a cocktail shaker with ice and pour into a martini glass. Line the rim of the glass with sugar & garnish with a lime twist.
Damon encourages his customers to get creative with the jams. "Try new vinaigrette flavors or try dropping a dollop of jam in your plain yogurt or oatmeal. These are simple and delicious ways to put a smile on your face!"