Vegetarian Holiday Recipes To Please The Whole Table
Posted November 6th, 2017 in Community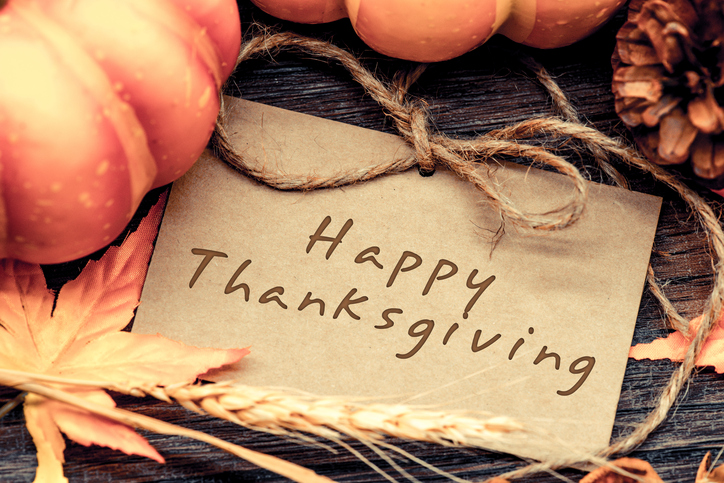 The holiday season is fast approaching, and that means kitchens everywhere will be at their peak as home cooks prepare the biggest meals of the year to share with families, friends and loved ones.
Turkey and ham tend to be the centerpieces of holiday meals, with chicken stock finding its way into most dishes, leaving vegetarians to wonder what options they may have. Whether you're a vegetarian yourself or will be hosting one for a holiday meal, here are some delicious meat-free dishes everyone will love to help make sure your holiday meal are special for the whole table. (We promise, we will not recommend tofurkey).
Bonus: many of these recipes are also vegan, which means they contain no animal products at all (meat, dairy, butter, eggs, etc.).
Vegetarian Gravy
Let's cut to the chase – gravy makes the meal. And it's one of the things that vegetarians consistently miss out on. Not anymore! Vegetarian gravy is so easy to make, and will only add a few minutes of time to your cook schedule. Your veggie-loving family members will love you even more!
http://www.delish.com/cooking/recipe-ideas/recipes/a50251/vegetable-gravy-recipe/
This one takes a bit longer, but is well worth it for mushroom enthusiasts.
https://ohmyveggies.com/recipe-wild-mushroom-gravy/
Main Dishes
Walnut Cranberry Acorn Squash
Butternut squash and sweet potatoes get all the love around the holidays. But acorn squash? Easy to prepare, stunning to present, healthy and delicious. We promise. This roasted acorn squash might even make meat-eaters decide to skip the turkey (and it's SO EASY!).
http://letthebakingbeginblog.com/2012/10/acorn-squash-with-walnuts-cranberry/
Butternut Squash Risotto
Though acorn squash is having a moment, butternut squash is still a comforting Thanksgiving favorite. This risotto ensures your vegetarian guests have something filling and robust to eat rather than trying to cobble a bunch of sides into a meal.
https://cookieandkate.com/2016/roasted-butternut-squash-risotto/
Acorn Squash, Apples and Quinoa
Seriously, you should be incorporating acorn squash into your holiday (and regular) meals. Here's another great option to delight your vegan, vegetarian and meat-eating loved ones alike. (Bonus: this dish packs quite a nutrition punch, making desserts just a little less guilt-inducing later on!)
http://www.edibleperspective.com/home/2013/11/12/roasted-acorn-squash-and-apples-with-quinoa-kale-and-tahini.html
Vegetable Tart
This one will leave all your guests talking and begging (we mean begging) for the recipe, the secret, the next invitation to eat it again. Besides being absolutely stunning, you can fill it with whatever vegetable layers you like and make substitutions based on taste (we like the idea of goat cheese and carrots).
Side Dishes
Maple Harissa Roasted Carrots
Here's a secret vegetarians know: don't underestimate carrots.
https://www.bonappetit.com/recipe/harissa-and-maple-roasted-carrots
Roasted Cauliflower
Roasted cauliflower is a great way to add substance to your meal, and it really soaks up flavors, giving you a lot of tasty preparation options. Here's one we love that's made with ingredients you probably already have in your pantry:
https://www.bonappetit.com/recipe/roasted-cauliflower-with-lemon-parsley-dressing
Roast Brussel Sprouts
Somewhere down the line, Brussel sprouts got a bad rap. But prepared properly, they are completely delicious. This recipe for basic roasted Brussel sprouts is a tried-and-true crowd pleaser, or try the bang bang Brussels for a more adventurous take on this hearty vegetable side.
http://www.delish.com/cooking/recipe-ideas/recipes/a55335/best-roasted-brussel-sprouts-recipe/
http://www.delish.com/cooking/recipe-ideas/recipes/a51615/bang-bang-brussels-sprouts-recipe/
Vegan Stuffing
Subbing vegetable stock for chicken/turkey stock is an easy way to make (most) traditional stuffing recipes vegetarian, but here's an incredible vegan option if you're looking to take it a step further.